WELCOME TO NORWAY , BERGEN AND KNARVIK
Welcome to Knarvik the center of region Nordhordland. Knarvik is situated north of Bergen – only 25 minuites from the center of Bergen. You're welcome to come and enjoy what Norhordland has to offer on land and sea - you will find it an enriching experience!
Bergen is the Gateway to the Fjords of Norway. As a UNESCO World Heritage City and a European City of Culture, the Bergen region has the ideal combination of nature, culture and exciting urban life all year around.
You'll find more information about Nordhordland here.

You'll find more information about Bergen here.
HOTEL
Our hotel sponsor will offer special prices for overnight accommodation.
Thon Hotel Bergen Brygge Thon Hotel Bristol and Thon Hotel Rosenkrantz is located within a short walk from the transportation area – bus stop for the Knarvik destination. If you want to combine the participation at the Great Fjord Run with a weekendtrip along the West Coasts magnificent fjords and mountains, we recommend Thon Hotel Sandven. This hotel is located one hour drive from Bergen.


Use the list below, and click on the preferred hotel to read more about the hotels.

Click HERE to go directlyto the booking site with special The Great Fjord Run prices
Thon Hotel Orion (former Thon Hotel Bergen Brygge) is centrally located on Bergen's scenic waterfront, and is a great option for budget-conscious travellers looking for comfortable and convenient lodgings. The hotel is within walking distance to Torgalmenningen (the main town square), the Fløibanen funicular, and many other of the city's sights. Parts of the hotel are under renovation. The free transportation buses departs from this hotel on Saturday the 2nd of September and Sunday the 3rd of September. Please check the information on free transportation.
Thon Hotel Bristol in Bergen is conveniently located in Bergen city centre, 20 km from Bergen's Flesland Airport. The hotel is just steps away from Torgalmenningen, the main square of Bergen, the active waterfront, and the fish market. The hotel is a great base for shopping excursions or for enjoying Bergen city centre's bustling nightlife. The hotel also arranges conferences.
Thon Hotel Rosenkrantz Bergen is a newly refurbished conference hotel in the heart of Bergen city centre. At Thon Hotel Rosenkrantz Bergen, we emphasise those little extra touches that help to make your stay especially pleasant – like plush bathrobes and Bose stereo systems in every room. An evening meal is included in the cost of your room.
First established in 1857, Thon Hotel Sandven is a venerable historic hotel steeped in tradition. The hotel is situated in scenic surroundings, perched on the edge of the fjord in central Norheimsund, scarcely an hour's drive from Bergen.
TRANSPORTATION

To get to Knarvik you can go by car, taxi, boat or bus. Our partner Tide offers public bus service. In addition to this we offer free transportattion by bus on Saturday the 2nd of September and Sunday the 3rd of September.

To see the timetables forpublic bus service click here.

Page 8 – From Bergen center to Knarvik (Saturday)

Page 7 – From Knarvik to Bergen center (Saturday)

Page 10 – From Bergen center to Knarvik (Sunday)

Page 9 – From Knarvik to Bergen center (Sunday)
VISIT BERGEN AND OUR BEAUTIFUL SURROUNDINGS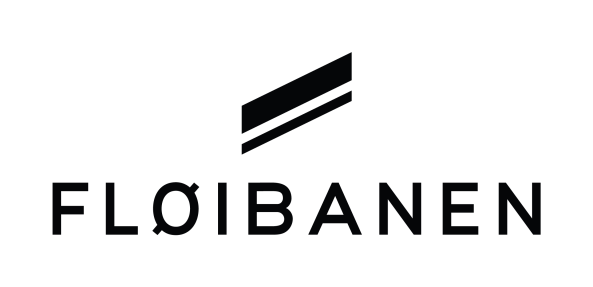 The Fløibanen funicular in Bergen is one of Norway's best-known attractions. Fløibanen can be found in the heart of Bergen, 150 m from Fisketorget – the fish market – and Bryggen wharf. It's only a 10-minute walk to the lower station from where the cruise ships dock. The journey up to Fløyen (320 m above sea level) takes about 5–8 minutes.
The journey is an experience in itself, and at the top you can enjoy fantastic views of Bergen. Check out the view right now from our webcam of Bergen seen from Fløyen.
There are endless opportunities for walks on Fløyen, and you will also find Fløistuen Shop and Café for a quick bite and a coffee, Fløien Folkerestaurant open seasonally, and the best children's playground in Bergen. The funicular runs daily, all year round, from early morning to late evening (check our departure times).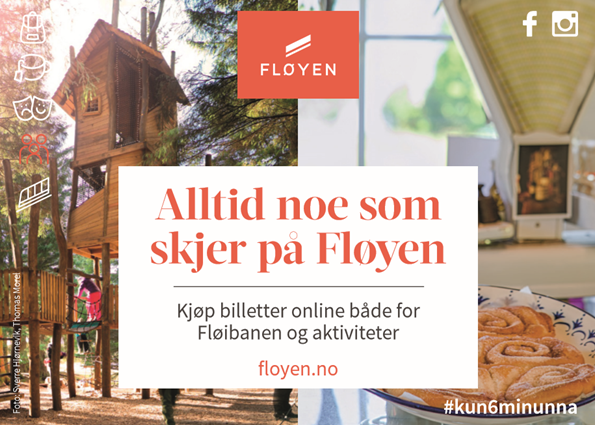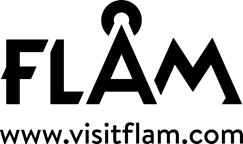 Beautiful Flåm is located right at the inner end of a branch of the world's deepest and second-longest fjord, the 204-km-long and 1308-metre-deep Sognefjord. Surrounded by steep mountainsides, surging waterfalls and narrow valleys, this area is paradise for anyone seeking the unique and spectacular wonders of nature! Good transport connections make Flåm an excellent hub, easy to reach by car, boat, train or bus. Large cruise ships gliding into Sognefjord to Flåm harbour are a daily sight in spring and summer. From the harbour and the many fjord cruise boats, it is just a brief stroll to the Flåm Railway station or the Fretheim Hotel.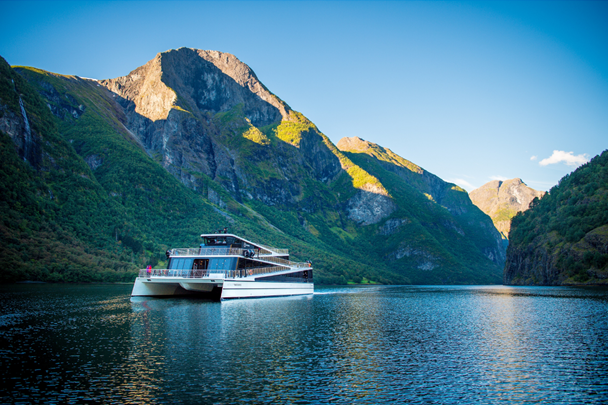 The Sognefjord, situated in the middle of Fjord Norway, extends all of 204 km inland and contains some of the wildest and most beautiful scenery in Norway. The area has dramatic scenery, unique cultural attractions and a large choice of exciting activities for the whole family.
National Geographic Traveler magazine has called this area "the world's most iconic destination".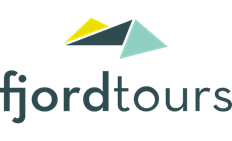 Fjord Tours, founded in 1982, offers package tours throughout Norway on both the Norwegian and international market. Our office is in Bergen.
Our best known products are Norway in a nutshell® - Norway's most popular round trip and Fjord Pass® - Norway's most extensive discount pass. We have tours that take in some of the most popular tourist attractions in Norway. On our various round trips, you can combine a relaxing train journey with a bus and boat trip in beautiful fjord and mountain scenery.
The round trips are based on public transport such as trains, boats and buses, and we endeavour to ensure that they correspond in our timetables. There are no Fjord Tours guides/tour managers on the tours, which are primarily designed for people travelling on their own, although we can also organize customized tours for groups on request. Read more and book here: https://www.fjordtours.com/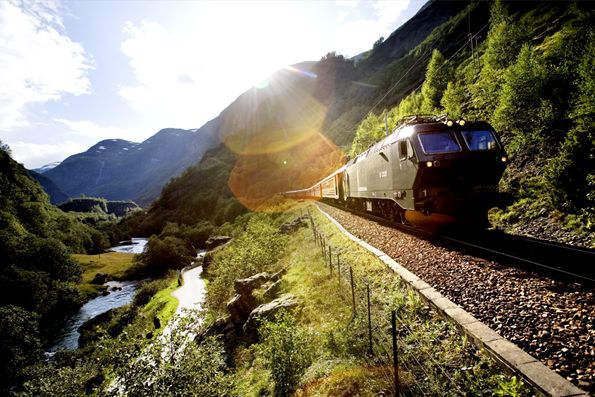 The Heathland Centre (Lyngheisenteret) is beautifully located on the heathlands at Lygra in Lindås municipality in Nordhordland, about 50 minutes from Bergen. Here you can wander around along paths winding through the heather-clad heaths. As a result of cultivation, pollution and overgrowth, this unique cultural landscape is rapidly disappearing in Norway and Europe. The Heathland Centre is an information centre focused on preserving knowledge and the way of life about how to manage the coastal heathlands. We preserve the heathland through traditional land use including burning and grazing by wild sheep. There is an Exhibition and film both in English. Venue rentals for businesses and weddings. Our varied menu includes locally source wild sheep as well as other products from Western Norway.
Open:
Mid-May through September: Wednesday–Friday 11–15.30. Sunday 12–17 with warm food in our restaurant served until 16.30
For more information – click here
COMFORTABLE AND AFFORDABLE BOAT TRIP FROM DENMARK, HIRTSHALS - NORWAY, BERGEN


Fjord Line is a modern shipping company that offers safe and comfortable transport between Norway and the rest of Europe. The company is expanding rapidly as a result of additional tonnage and expansion of services for passengers and cargo carriers.
In addition to passenger traffic, Fjord Line carries all types of commercial vehicles and freight. These are handled by Fjord Line's cargo departments in Norway and Denmark.
Fjord Line was established in 1993 and has today around 600 employees, of which 170 work on land in Bergen, Stavanger, Egersund, Langesund, Kristiansand, Hirtshals, Sandefjord and Strömstad and 430 work at sea year-round. The workforce increases between April and September by about 150 employees.
MS Stavangerfjord and MS Bergensfjord are the first and largest cruise ferries in the world to use "single fuelled LNG engines", meaning that the ships are powered exclusively by liquefied natural gas (LNG). This environmental initiative means that Fjord Line lies in the forefront of new and more stringent emissions regulations, and the environmental benefits will be welcomed along the coast and in the four ports served by the cruise ferries.
The most comfortable journey from Denmark to Knarvik, Bergen Norway is done by booking boat transportation from Fjordline.
Book your trip from Denmark, Hirtshals to Norway, Bergen here